767 Fifth Avenue | The General Motors Building
The 50-story office tower known as the General Motors Building stands as a landmark property and a defining aspect to the New York City skyline. The building's address is 767 Fifth Avenue and can be found between 59th and 60th Streets near the southeastern tip of Central Park in Manhattan. Clad in white marble – the property has been more attractive as a piece of real estate and as a home to its corporate tenants than it has to architecture critics – the skyscraper was built in 1968 by architects Edward Durell Stone & Associates with Emery Roth & Sons. This property takes up a full block and has been a major thoroughfare for Apple customers / aficionados who've in recent day make their pilgrimage to this retail mecca (being one of the worlds most trafficked retail shops – 2015). White Georgian marble accents the tower's vertical rise which are complimented by by a glass-curtain wall of inlaid panels all of which tapers slightly from the base to the top. As stated on Wikipedia "The façade is an expression of unbroken verticality in "glistening white Georgia marble" and sheets of glass."
The GM Building plays host a number of high-end corporate office tenants and contains 1.7 million square feet of leasable luxury commercial space within. Today there stand only a handful of buildings that inspire a sense of prosperity, influence, and success as 767 Fifth Avenue has. Over the years this building has broken records in office leasing, making availability a highly coveted opportunity to rent.
Leasing Commercial Space
• Office Space Leasing Available
For information on available office space inside of 767 Fifth Avenue or nearby in the area, contact us and one of our brokers can provide you with all the intel needed including price, floor plans, photos, and insight into the area and the comparable options.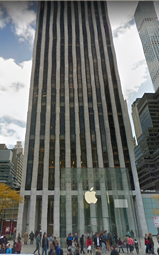 What this Building Can Offers Its Tenants:
Landmark Property
Headquarter Opportunity
Central Park views with some Units
Floors: 50 Stories / 705 Feet
Property Type: Skyscraper
Location: Midtown / Zip Code 10153
Total Building Size: 1,774,000 SF.
Lot Size:
Year Built: 1968
Architect: Edward Durell Stone, Emery Roth & Sons
Building Class: A
Price: Buildings in this range and location today are averaging rents between $80 to $110 PSF.
Building Features:
• Management On-Site
• LEED Certification
• Parking Garage
Property Details
In recent time Macklowe Properties undertook a $150 million dollar program which has served to revitalize and restore the property to its original grandeur – thereby strengthening the building's position as one of Manhattan's most iconic and top quality commercial buildings. Implementation has covered a range of areas within that has included common areas like the lobby, halls, and elevators. In addition improvements have been closely tied to a hands-on approach to focusing on tenant-services through on-site management and staff. Being situation where it is many of its tenants do enjoy view of Central Park as an added perk to leasing at this site.
Tenants to the building over the years have included big names in business and as the namesake the property was originally owned and occupied by General Motors who sold the building in 1982. The Plaza District tower originally opened in 1968, replacing the much adored 33-story Savoy-Plaza Hotel, which was demolished in 1965. Since that time the property has turned over a few hands and now stands firmly under the control / ownership of Boston Properties and Zhang Xin plus the Safra family.
Tenants who have called or now call this Building home include:
Numerous tenants who have and do call 767 Fifth Avenue the home for their business.

Apple Store (Ground Floor)
Aramis Inc.
Archaio (45th Floor)
Balyasny Asset Management (35th Floor)
Banco Itau (Penthouse)
Bank of America
Baron Capital Inc. Funds Trust (49th Floor)
Bay View Grand
Belfer Management LLC (46th Floor)
Bluecrest Capital Management (9th Floor)
Cartier
Chase Bank
Continental Grain Company (15th Floor)
Corning Incorporated (23rd Floor)
Donna Karan Cosmetics Co.
Dubin & Company LP (45th Floor)
Estee Lauder
FAO Schwarz
General Motors
Glenview Capital (44th Floor)
Grosvenor Capital Management (14th Floor)
Icahn Enterprises (47th Floor)
IMG Worldwide Inc. (15th Floor)
International Sports
Itau USA Securities (50th Floor)
J.C. Flowers & Company (23rd Floor)
Jana Partners (8th Floor)
JD.com Inc.
Lightyear Capital LLC (40th Floor)
Maverick Capital Ltd. (11th Floor)
Michel Dyens & Co. LLC (5th Floor)
Perella Weinberg Partners LP
Perry Capital (20th Floor)
Reservoir Capital (16th Floor)
Rose Capital Advisors
SAB / Stabilis Capital Management, LP (12th Floor)
Seven Valley LLC. (46th Floor)
Standard Capital (16th Floor)
Tandem Global (8th Floor)
The Safra Group
TRB Advisors LP (12th Floor)
Tumi (Ground Floor)
UNTL Capital, LLC (8th Floor)
Vertu
Via Quadronno (Ground Floor)
Weil Gotshal & Manges LLP (23rd to 32nd Floor)
Wolford Hosiery (Ground Floor)
York Capital Management (46th Floor)
Call Today / Tour Tomorrow!
Broker Assisted Office Space Search
Get instant access to our full database of office listings throughout NYC