405 Lexington Avenue | Chrysler Building
405 Lexington Avenue is known the world over as the Chrysler Building which stands between 42nd & 43rd streets (N/E/C of 42nd Street) along both 3rd avenue and Lexington, directly across the street from Grand Central Station. The building contains numerous office units for lease and commonly features available space throughout the year. Moreover office space for rent in the Chrysler Building comes at a premium as one of the most recognizable office properties in the world.
Today's office market has driven up prices on average within the Grand Central to $75 PSF.
As with many commercial buildings in Manhattan the landlord offers both pre-built suites and the ability for you to custom built your space as well. Those offices that are already pre-built do feature efficient layouts that make the most out of each floor plate. Additionally the spaces found within its upper floors boast spectacular views of Manhattan. For demo-space the unit comes demolished and is built to your specifications and design.
For more information on 405 Lexington Avenue, contact a New York Office Space broker today.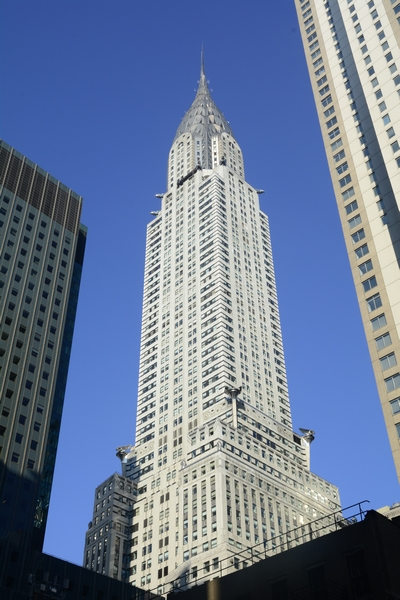 What this Office Building can Offer You:
Midtown Manhattan Central Presence
Pre-Built & Raw Commercial Space (Offices)
Higher Floor Plates offer sweeping views of Manhattan
Floors: 77 Stories
Property Type:
Location: Midtown / Zip Code
Total Building Size: 1,195,000 – 2,062,772 SF.
Lot Size: SF.
Year Built: 1930
Architect: William Van Allen
Building Class: A
Price: Buildings of this quality standard in the area average between $65 to $90 PSF.
Building Features:
• National Landmark Property
• Direct access to Grand Central Station
• LEED Certified Gold Existing Building (resource efficient)
Property Details
Originally designed for William P. Chrysler this 1,046 feet tall structure once stood briefly as the tallest building in the world. Today the building is renowned for its silvery stainless steel crown at its top – a true Art Deco gem of architecture as this office building stands as the epitome of the classic New York skyscraper. In recent time the Landmark property has undergone a number of renovations and capital improvements ranging from the common areas like the lobby and elevators to some of the wiring – allowing for more broadband options within.
If image is of focus then upon entry at ground level, the grand lobby has been redone including restoration of the ceiling mural and a redesign of the interior and exterior lighting.
The Chrysler Building's location is near the Turtle Bay area of Manhattan and is central to all major forms of transportation mainly found at the Grand Central Terminal. This location  offers unparalleled transit options all of which is further benefitted by well-laid infrastructure that still makes this building property a  top contender for big businesses in need of office space for rent.
As for the neighboring industry, you have proximity to some of the most successful and well establish financial firms as well as hedge funds, though media and advertising do have a strong presence today.
The Chrysler Building Center is approximately 35 minutes from any of the major airports: LaGuardia, Kennedy and Newark Airport.
Impressive tenant roster includes:
There are about numerous tenants who do and have called 405 Lexington home…
Aerosoles
Aldo
AMA Capital Partners
American Marine Advisors (AMA Capital Partners)
Arbor Research
Arena Investors, LP (59th Floor)
Avenue Group – AVNU (26th Floor)
The Bamberger Group
Bienville Capital Management
Blank Rome (22nd Floor)
Blank Rome Tenzer
Brasil Warrant
CAA Sports (19th Floor)
Capital Fund Management
Carlton Fields (36th Floor)
Castleton Commodities
CBS
CFM (55th Floor)
Chase (Midtown East Chase Bank)
Clune Corporation
Clyde & Company (11th Floor)
Creative Artists
Creative Artists Agency
CS-Strategies (26th Floor)
Demandbase (35th Floor)
Dilenschneider Group (57th Floor)
Diversified Search (49th Floor)
Dr. Kenn Kakosian, DDS (54th Floor)
Duane Reade
Eastern Advisors Capital (32nd Floor)
Embassy of Spain Trade
European American Business Organization Inc. (37th Floor)
Evolution Media
Graubard Miller (11th Floor)
GreenHills Ventures, LLC (26th Floor)
IDC – Worldwide (26th Floor)
Incapital Holdings / Incapital LLC (50th Floor)
J. Fitzgibbons
Kimco Realty
Lewis Baach Kaufmann Middlemiss (32nd Floor)
Madison Avenue Eye Care
Manhattan Scientifics, Inc. (26th Floor)
Maxim Group LLC (2nd Floor)
Memorial Sloan Kettering Cancer Center (3rd Floor)
Miller Graubard
Moses & Singer
My Maki
Mylan
Newbridge Securities
Northstar Group
Outfront Media (14th Floor)
Oxford Analytica (54th Floor)
PA Consulting Group
Penner Law Firm Manhattan
Pixida (26th Floor)
Richardson & Patel
Roosevelt Institute
Saba Capital Management, L.P. (58th Floor)
Simpson Thacher & Bartlett
Sky Dental (69th Floor)
Sovereign Financial Group, Inc (26th Floor)
Travelport (57th Floor)
Trevor Stewart Burton & Jacobsen Inc.
Troutman Sanders
Vince Blue Chip Prime Fund (26th Floor)
Weizmann Global Endowment Management Trust
Wilfrid Aubrey
Wohabe Law Firm
Wolf, Greenfield & Sacks, P.C.
Call Today / Tour Tomorrow!
Broker Assisted Office Space Search
Get instant access to our full database of office listings throughout NYC