375 Park Avenue | Seagram Building
A premier building in a premier location
In 1958 The Seagram Building is completed, marking an important stage in Park Avenue's transformation from residential to a destination for high-profile offices and corporations.
375 Park Avenue is the premier building trophy property that traditionally hosts some of the world's top companies as it continues to attract and maintain a strong base of leading global financial firms.
Designed by Ludwig Mies van der Rohe in association with Philip Johnson the 38-story skyscraper stands as testament to modern commercial building design. Regarded as one of the world's finest office properties the building can be found on Park Avenue between 52nd and 53rd Streets in the heart of Midtown Manhattan and stands as a "Class A+" building with more than 820,000 rent-able square feet. Being regarded as one of the world's finest office properties, 375 Park has long been popular with financial service firms, law firms and Fortune 500 companies.
As a status symbol the building boasts a number of well heeled tenants throughout and has been touted as part of the Midown country club of office towers. Far from downtown Manhattan many financial institutions now call Midtown home – name such as; Arden Asset Management; Atlas Merchant Capital, co-founded by former Barclays CEO Bob Diamond; private-equity firm Clayton Dubilier & Rice; ConocoPhillips; law firm Sullivan & Cromwell; NASCAR, and; Singapore state investment company Temasek.
Because of this 375 Park Avenue continues to attract and maintain a strong base of leading global financial firms. Being the first office building to have floor-to-ceiling glass windows, the property Overlooks Park Avenue and enjoys panoramic views of Manhattan throughout its upper floors.
Leasing Commercial Space
• Office Space Leasing Available
For information on available office space in buildings near 375 Park Avenue, contact us and one of our brokers can provide you with all the intel needed including price, floor plans, photos, and insight into the area and the comparable options.
What this Building Can Offers Its Tenants:
Landmark Property (OCT 1989)
Headquarter Opportunity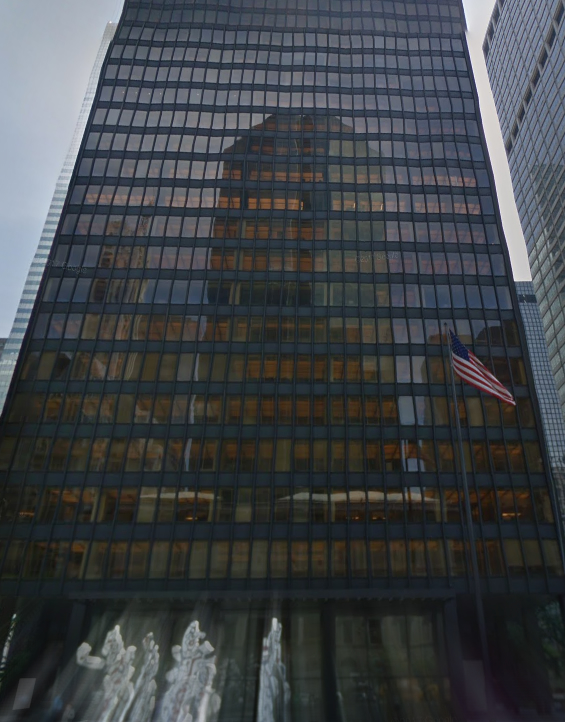 Floors: 38 Stories / 520 Feet
Property Type: Skyscraper / Trussed Frame
Location: Midtown West / Zip Code 10022 or 10152-2501
Total Building Size: 820,100 SF.
Lot Size: 59,950 SF. / 1.4 acres
Year Built: 1958 (Renovated 2000)
Architect: Mies Van der Rohe, Phillip Johnson, Diller Scofidio + Renfro
Building Class: A
Price: Buildings in this range and location today are averaging rents bewteen $70 to $90 PSF.
Building Features:
• Concierge / Security 24/7 Service
• Management On-Premises
• Class A Office Space
• Onsite Parking / Parking Garage
Property Details
This property does feature a number of details that may intrest the prospective tenant such as; a 150-car parking garage on the concourse level, convenient access to public transportation at both the Madison & 53rd Street and Lexington & 53rd Street Stations as well as Grand Central Station, an Executive Lounge – terrace – with rotating art exhibitions throughout the year. Its been said that "the plaza is an expensive aesthetic and symbolic gesture, especially significant in the dense urban environment which surrounds it."
Moreover the building is now also home to restaurants by chefs Mario Carbone and Richard Torrisi. What perhaps is the standout unique feature is broad elevated plaza along Park Avenue. This plaza, considered one of 375 Park's definitive design features, includes symmetrically designed fountains and landscaping.
Otherwise the Plaza District hosts many fine luxury shops nearby on Fifth Avenue and has a strategic location providing entree to virtually any attraction with favorable access to the finest of luxury shops, hotels and restaurants that Midtown Manhattan has to offer. The property is neighbors with the Waldorf Astoria and the historic St. Patrick's Cathedral which are literally steps away.
Today RFR maintains ownership of the building through nearly $1 billion in financing that is securitized as a joint venture asset.
Tenants who have called or now call this Building home include:
Numerous commercial tenants who do and have called 375 Park Avenue home…

Alan Roberts & Associates
AQM Capital
Arden Asset Management
Atlas Capital Management
Avista Capital
Aviva Investors North America
Aviva Life and Annuity Company
Bay Harbour Management
Berkley Insurance Company (entire 35th floor)
BHP Billiton
BI Invest
Brant Point Capital
Carlson Capital
Centerbridge
Centerbridge Partners
Cindat Capital Management
Clayton, Dubilier & Rice (18th and 19th floors as well as a part of the 17th floor)
Crestline Research Sub, L.P.
CRG
DAK Investments
Ehrenkranz & Ehrenkranz
Entrust Capital
Exor USA
Financial Service Incorporated
Fintech
Fintech Advisory
Fried Frank Harris
Genesis Development Company
Hans Holterbosch
Horace W. Goldsmith Foundation
Insurance Company
Invamed
InvestIndustrial
JBS
JSF Capital
L1 Health
Lindemann Capital
Medley Capital
Ontario Teachers' Pension Plan
Orion Oil & Gas
Pamplona Capital Advisors
Pamplona Capital Management
Perez-Llorca
Princeton Holdings
Servcorp
Servcorp
Sound Point Capital
SR Capital
Strategic Asset Services
Strategic Value Partners
Temasek
Three Eye
Trilantic Capital Management
Vista Holdings
Wachovia (Wells Fargo)
Winton Capital
Call Today / Tour Tomorrow!
Broker Assisted Office Space Search
Get instant access to our full database of office listings throughout NYC