250 Vesey Street | Four World Financial Center
The commercial building known as Four World Financial Center is situated at 250 Vesey Street between Vesey Street and West Street. This building is quite large, calculating in in excess of 1,800,000 SF. of office work space for lease and soars as much as 34 stories tall. The building property was designed to provide Class A office space being completed in 1986 and has since played host to a number of companies who sought a quality work space near the large and ever expansive office towers of the Financial District. Being situated in Battery Park City this location offers both convenience for staff riding in from either Brooklyn or New Jersey. Serviced by a number of transit hubs and the ferry which can take you either to NJ or around Manhattan. Being that the property is in such close proximity to Wall Street and Downtown Manhattan this then can aid those businesses with satellite offices or those who are more closely aligned with a financial firm, the money markets, and those clients who traditionally work in the area. In total 250 Vesey Street stands as a great option for those businesses who are looking for top notch commercial accommodations coupled by state-of-the-art infrastructure and a solid management.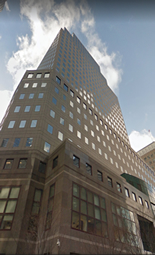 Leasing Commercial Space
• Today, the building's vacancy rate is averaging just under 5 percent
• You can lease Contiguous Space as large as 85,000 SF.
• Small Spaces as large as 10,000 rentable SF.
The main feature of office spaces found here are the lack of individual work-spaces as a continuing trend within the market —as individual work-spaces are shrinking, the collaborative or common spaces are really increasing…
On our tour of the building we found that commonly throughout the property most of the commercial tenants within have opted to build their space without individual or perimeter offices. Today these spaces are constructed as an open plan that facilitates workstations, which are flank by the exterior of the floors, all of which were uniform regardless of a staff person's position in the company. These spaces are peppered with interior private offices and breakout rooms where staff and clients can convene or hold a private phone call. Moreover this does not include those tenants who have built their own social café and or a reception area of which we found most to be expansive taking advantage of the large floor plans on offer herein.
For more information on 250 Vesey Street, contact us and one of our brokers can provide you with all the 'intel' needed including price, floor plans, photos, and insight into the area and the comparable options.
What this Office Building can Offer You:
Waterfront views & Events Programs
Onsite Parking
Direct connection to the PATH and 11 subway lines
Headquarter Opportunity
Floors: 34 Stories / 500 Feet High
Property Type: Skyscraper
Location: Battery Park City / Zip Code 10281
Total Building Size: 1,903,800 SF.
Lot Size: 103,028 SF. / 2 Acres
Year Built: 1986
Architect: Cesar Pelli & Associates
Building Class: A
Price: Buildings in this range and location today are averaging rents between $50 to $80 PSF.
Building Features:
• Renovated New Lobby
• Prestigious Corporate Identity
• Generator Capacity Available
• Office Floors: 13.5′ (9.5′ to 10′ finished ceilings)
Property Details
The place to find a lot of Manhattan's major banking institutions, the aptly named Financial District is situated for the southern section of Downtown. This neighborhood of Manhattan is serviced by two major thoroughfares, Wall Street and Broad Street, which cut through from north to south in this area. Some anchor locations commonly sought after by financial companies and institutions are the New York Stock Exchange and the Federal Reserve Bank. This area is great for off-hours activity as it is in close proximity to the South Street Seaport who's outside mall has numerous shops for staff to enjoy. Furthermore the area of Stone Street offers a pedestrian-only walking street that is cobblestone and plays hosts numerous eateries and bar options. On fare and clear days, you can make use of outside seating that's optimal for staff breaks or client meetings.
Impressive tenant roster includes:
There are about numerous tenants who do and have called Four World Financial Center their home…

Bank of New York Mellon
Bank of Nova Scotia
Brookfield Investment Management Inc. (15th Floor)
City National Bank
Cos Bar
DANY (District Attorney of New York)
Gilt Group (21st Floor)
Hudson's Bay Company (Saks)
Jane Street Capital
Jones Day
Lululemon
Michael Kors
Merrill Lynch (41st Floor)
Northern Tiger
Olapic
Omega
P.J. Clarke's on the Hudson
The College Board National Office
Scotia Bank (23rd & 24th Floors)
Scotia Capital Inc. (USA)
Spectrum Science
SunEdison
Theory
Time Inc.
Volant Trading / Volant Liquidity, LLC
Call Today / Tour Tomorrow!
Broker Assisted Office Space Search
Get instant access to our full database of office listings throughout NYC