570 Lexington Avenue | General Electric Building (RCA Building)
570 Lexington Avenue is also known as the General Electric Building (RCA Building) which stands at the southwest corner of Lexington Avenue and 51st Street and is best-known for its 30-foot enameled limestone Gothic spires. Known the world-over as one of the city's most exquisite Art Deco jewels, this tower boasts a extraordinary crown top that architectural aficionados tout as one of the most attractive skyscraper roof in the world.
The gothic art deco designed GE Building does have its caveats – namely its small floors with floor plates that are below the average minimum for most big companies. But for those smaller companies whereby views and having a full-floor identity were important this type of building is the perfect fit. Running along at about 17,000 square feet at the base and thinning out at 3,000 square feet in the tower – those looking for unique space with 'wow' factor will find it here!
With the overall up-sizing of spaces throughout the city, small floors in time should once again return to favor, and fantastic buildings like this will become highly desirable.
For more information on 570 Lexington Avenue, contact a New York Office Space broker today.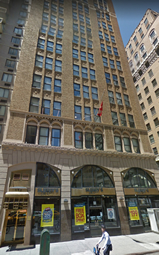 What this Office Building can Offer You:
Midtown Manhattan Central Presence
Corner Property (windows on two sides)
National Landmark Property
Floors: 50
Property Type: Skyscraper – Brick & Steel (Art Deco)
Location: Midtown / Zip Code 10022
Total Building Size:
Lot Size: 4500,622 SF.
Year Built: 1929 – 1931 (renovated 1996 / $40 million)
Architect: John W. Cross – Cross & Cross (architecture firm)
Building Class: A
Building Features:
• National Landmark Property
• Lobby Attendant / TV security
• 24 / 7 Building Access
• On-site Management
• New Windows (spaced out non-contiguous)
• Freight Elevator
• Restored Brick Facade
• Individual Air-Conditioning Controls on Each Floor
• Wired and serviceable for high speed internet access
• Views of St. Bartholomew's Episcopal Church
• New York (BOMA/NY) awarded the building the title of Excellence for a Historic Building
• 1996 Recipient of the Lucy G. Moses Commercial Project Award
• 50th floor is Mechanical
Property Details
If image is also of focus then upon entry at ground level, modern & professional details have been incorporated yet the lobby maintains a touch of old world charm that has been captured by the use polished walls and vaulted ceilings.
Located right by the 51st Street subway station and a few blocks from the northern entrance to Grand Central Terminal, this property is both easy to get to and moreover the area its in isn't congested like other parts of Manhattan with tourists and or industry related business like those found in other locales such as the garment district or downtown Manhattan.
Today such a building wouldn't exist – given its small plot size; but back in the heyday city planners and civic interests from leaders to builders thought little on limits – being the essence of – the romance of a city. Decorative details from brickwork accented with filigree decoration to its lightning bolt motifs such a property could only be built during the country's gilded architectural age.
Originally constructed as the RCA Victor Building – the property compliments St. Bartholemew's Episcopal Church and has since become of one the most eye catching unique buildings of its period.
Neighborhood attractions include the Waldorf-Astoria, MetLife Building, Rockefeller Center, St. Patrick's Cathedral and St. Bartholomew's Church, there are not a lot of fast-casual restaurants in the area.
Impressive tenant roster includes:
 Numerous tenants do and have called 570 Lexington home for their company!

Asset TV
Blue Road Capital Management
Cambridge Information Systems
Carroll, McNulty & Kull, LLC
City of New York for the Court of Appeals Judge
Endicott Financial Advisors
Fabiani Cohen & Hall, LLP (3rd & 4th Floors)
Globex Holdings
Godiva
Ladenburg Thalmann
Marlin & Associates (Penthouse / Duplex – 48th and 49th floors)
Millbrook Capital Management
Miller Wrubel
Mobile Mecca
Pearl Meyer & Partners
Quad Partners
Que Media
The Real Estate Board of New York (REBNY)
Regency Affiliates
Rodman and Co.
Roosevelt Institute
Schnipper's Quality Kitchen (Ground Floor Retail)
Sotheby's Institute of Art
Strathspey Crown Holdings (27th, 28th and 35th Floors)
Swedbank First Securities
Teagle Foundation
Thrax Management
THL Credit Advisors
Todd & Cosmor
William T. Grant Foundation
Ziegler, Ziegler & Associates
Call Today / Tour Tomorrow!
Broker Assisted Office Space Search
Get instant access to our full database of office listings throughout NYC