750 Lexington Avenue
1 International Plaza
Trophy Class A building; 750 Lexington Avenue is a 28-story office and commercial building completed in 1986. Its 40 units cover a gross floor area of 386,287 square feet. The building is one of many in the area owned by Cohen Brothers.
The area is considered premiere in New York City, and this skyscraper of metal and glass sits directly across from Bloomingdales and steps from Park Avenue. 750 Lexington provides access to the 4, 5, & 6 subway lines and also offers parking at the building.
The building was designed by world renowned architect Helmut Jahn and every unit has floor to ceilings windows that allow a tremendous amount of natural light and grand views of New York City. In 2013 The New York Post reported that cosmetic retailer Sephora USA was taking take over the 7,000 square-foot curved glass Levis store at 750 Lexington Ave. at the southwest corner of East 60th Street, right across from Bloomingdales.
For more information on 750 Lexington Avenue, contact a New York Offices broker today.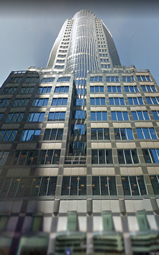 What this Office Building can Offer You:
Plaza District Central Centric Presence (Between 60th and 59th Street)
On-site Parking Facilities
Large Efficient Floor Plates / Accommodate any type of Layout
Floors: 33
Property Type: Skyscraper
Location: Midtown / Plaza District / Zip Code 10022-1200
Total Building Size: 355,227 SF.
Lot Size: 24,600 SF. (200 x 120 feet)
Year Built: 1989
Architect: Murphy Jahn Associates
Building Class: A
Building Features:
• Lobby Attendant
• Tenant Controlled HVAC (24 hours / 365 days)
• Owner / Manager on site
• Renovated Lobby and Elevator Cabs
• New Elevator Mechanical Systems
• Onsite Parking
• Parking Garage
• Upper Floor Views: Central Park, East River & Queensboro Bridge
Property Details
The building has been set back considerably along Lexington Avenue providing desperately needed pedestrian space at one of the world's most crowded intersections. Focus has been applied to the distinctive retail frontage by using curved windows, with doors for the double-height store spaces accented by a textured streetfront. The building's entrance, is on 59th Street beneath a boxy canopy, while the lobby within is wonderful, boasting polished granite making for a very elegant space.
The building is a top-notch Class A building. You can commute from everywhere and get there easily
Ground Level: A plaza wraps around almost all of the building's street frontages on East 59th Street, the west side of Lexington Avenue, and East 60th Street. On the avenue, the space is extra sidewalk, demarcated by distinctive paving pattern, in front of cylindrical bubble-windowed retail stores. Miniscule ledges near the base of the windows are used for brief sitting. On the side streets, the space is empty but for stairwells down to the subway below, more miniscule ledges that are minimally sittable, and, on East 60th Street, a garage entrance and two spaces for bicycle parking.
Impressive tenant roster includes:
Numerous tenants have and do call 750 Lexington their home for their business.
Allan Greenberg Architect (16th Floor)
The Arkin Group (25th Floor)
Arkin Solbakken LLP (25th Floor)
Berkowitz Pollack Brant Advisors and Accountants
Bickel & Brewer
CapGreenberg LLC (Suite 1501)
Cohen Media Group
D & D Building Co LLC
EAS Advisors LLC
Edwards Wildman Palmer LLP
Gottex Fund Management (26th Floor)
Growth Insight, Inc.
Invus Group
Jimmy Choo
Lufthansa
The Marketing Directors (18th Floor)
Novogradac & Company LLP (Suite 2402)
Obrien LLP (25th Floor)
Odeon Captial LLC (27th Floor)
Otkritie Capital U.S. INC. (23rd Floor)
Peggy Siegal Company (5th Floor)
RKO Stage Productions (Suite 2200)
Scientific Games Corporation
Simon & Oliveri LLC.
Snack Box (15th Floor)
SRF Ventures (15th Floor)
Steel Pier Capital Fund LP Steel Pier Capital Advisors LLC (24th Floor)
Stemline Therapeutics (11th Floor)
StarVest Partners, L.P.
Temin and Company (26th Floor)
Titles of New York (4th Floor)
William A. Brewer III Partner – Brewer Attorneys & Counselors (14th Floor)
Wikinvest (25th Floor)
Vantage Properties, LLC (17th Floor)
Zara International Store
Call Today / Tour Tomorrow!
Broker Assisted Office Space Search
Get instant access to our full database of office listings throughout NYC