399 Park Avenue
399 Park Avenue office space available for lease within this renowned building property ranges from 12,000 SF. within a partial floor plate layout to upwards of 73,500 SF. with a full floor presence. This range of premiere class A offices can work best for those seeking a dedicated traditional office space on its own floor. Together these features alone lend well for any business looking to lease a new office headquarters within the heart of Midtown Manhattan.
Once the world headquarters for Citibank / formerly known as the Citigroup Building – spanning one full block between Park Avenue and Lexington Avenue from 53rd to 54th Streets stands 399 Park Avenue. Known for its sleek minimalist aesthetic the building features details such as limestone-clad columns, thin aluminum mullions, and dark brown spandrels. This exclusive property is noted for its lavish through block lobby which is topped over by large floor-plates than encompass a full block by which each story climbs to the sky. Moreover this commercial building bears strong architectural influences from the International style which expresses a sleek minimalist aesthetic that in the end conveys success and influence within the corporate landscape. The building is a 39-story Class A office tower that is undergoing a series of capital improvements which will ensure the quality of this property for years to come. The most notable feature today in our mind would be the build's setbacks which helps provide supplementary light. One of these setbacks is scheduled for construction in which a new office floor will be added over it, while the tower's limestone façade will be covered over with metal cladding. These improvements are wide ranging and expansive in scope, they do include the upgrade of the interiors and building mechanical systems, the addition of a new landscaped roof garden, plus a face-lift of the building's exterior. This site has always been noted for its contribution to the skyline of Midtown Manhattan. These improvements are just a small portion in a series of renovations at nearby projects tied to the Plaza District / East Midtown rezoning proposal for improvement.
Leasing Commercial Space
• Office Space Leasing Available (Min. Divisible: 12,000 SF / Max. Contiguous: 73,784 SF)
OFFICE SPACE
For information on available office space inside of 399 Park Avenue or the nearby area, contact us and one of our brokers can provide you with these all the data needed including whats available on the market today, with prices, floor plans, photos, and insight into the area and it's comparable options.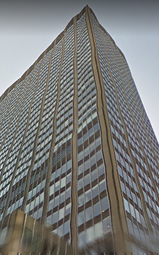 What this Building Can Offers Its Tenants:
Uniformed Lobby Attendant & Security + Key Card Access + 24 / 7 Access
Prestigious Office Address IN Manhattan's quintessential corporate stretch
Floors: 39 Stories / 524.01 ft (160 m)
Property Type: Skyscraper
Location: Chelsea / Zip Code 10022
Total Building Size:1,526,121 SF.
Lot Size: 81,021 SF.
Year Built: 1959 – 1961
Architect: Carson Lundin & Shaw + Kahn & Jacobs
Building Class: A
Price: Buildings in this range and location today are averaging rents bewteen $80 to $110 PSF.
Building Features:
• Landmark Property
• Superimposed Floor-to-Ceiling Windows
• $50 million Capital Improvement Program Underway
Property Details
Park Avenue more than any other track in Manhattan is a street of remarkable change. Traditionally many large financial companies are headquartered here calling Midtown Manhattan home; most notably the stretch extending from Grand Central Terminal to 59th Street is where you'll find some of the world's top financial players such as hedge and private equity funds choose to lease their offices here. In keeping with the standard herein many landlords have competitive plans towards renovating or rebuilding their towers entirely all of which in order to make for a more appealing "product" of prime, modern, well-located offices. These plans foreshadow great changes ahead in the city with the intent of introducing a new generation of commercial spaces in greater density. Today the Plaza District corridor stands poised for re-zoning and the introduction of new taller skyscrapers to come within Manhattan's dense tower cluster.
Regardless of neighborhood Park Avenue has long been and continues to be one of the most desirable locations in Manhattan with deep-pocketed institutions and corporations clamoring for the office spaces it contains. There stands no other Manhattan thoroughfare that offers hotels, residential, restaurants, and retail all found in one place the way Park Avenue does.
399 Park Avenue Office space cane be leased here with terms ranging from 5 to 15 years on direct leases and as little as to a 1 to 2 years when sublet office options become available.
Tenants who have called or now call this Building home include:
Numerous commercial tenants who do and have called 399 Park Avenue home…
American Financial Realty Trust
Arnold & Porter LLP (36th & 37th Floor)
Avenue Capital (6th Floor)
Bingham McCutchen LLP
Blue Dog
Bonwick Capital (38th Floor)
Brigade Capital (16th Floor)
C.V. Starr & Company (8th Floor)
Citibank
Cohen Rabin Stine Schumann (10th Floor)
Cyrus Capital Partners, L.P. (6th Floor)
Dishes To Go
Epoch Investment Partners UK, Ltd (4th Floor)
Eton Park Capital Management, L.P. (10th Floor)
First Manhattan Securities
GreensLedge Capital Markets LLC (37th Floor)
Lehman Brothers (16th Floor)
Man Financial
Moelis & Company (5th Floor)
Morgan Stanley (12th Floor)
Northstar Realty Finance Corporation (18th Floor)
PineBridge Investments (4th Floor)
Robins Kaplan LLP® (36th and 37th Floors)
Simon Property Group, LLC (SVG) (29th Floor)
Star Management Services LLC (29th Floor)
STARR Companies (8th Floor)
Superfy (39th Floor – Penthouse Office)
The Jordan Companies (30th Floor)
Trilantic Capital Partners (30th Floor)
Wilmer Cutler Pickering Hale and Doo (10th Floor)
Call Today / Tour Tomorrow!
Broker Assisted Office Space Search
Get instant access to our full database of office listings throughout NYC