Breakout Rooms
A breakout room is an area available to employees/guests/clients separate from the designated work areas. The area can serve a multitude of purposes depending on the needs of a company. A breakout room can be a great area for employees to eat their food, make their drinks, and to take their break. Eliminating the frequency in which the employees leave the building for a 'coffee-run'. Another use for the breakout room is a place to hold informal meetings among staff or with clients.
A company may view a breakout room as an expense they cannot afford without considering the impact on the employee morale. Breakout rooms can an integral part of a proper functioning office environment. Many health and safety laws suggest taking several minutes away from the computer screen and work stations. A breakout room provides an area for employees to take their break without leaving the office. An area dedicated to a physical and mental break for employees can provide a boast to office morale. Using a breakout room as a relaxing and celebratory space create positive associations among the staff.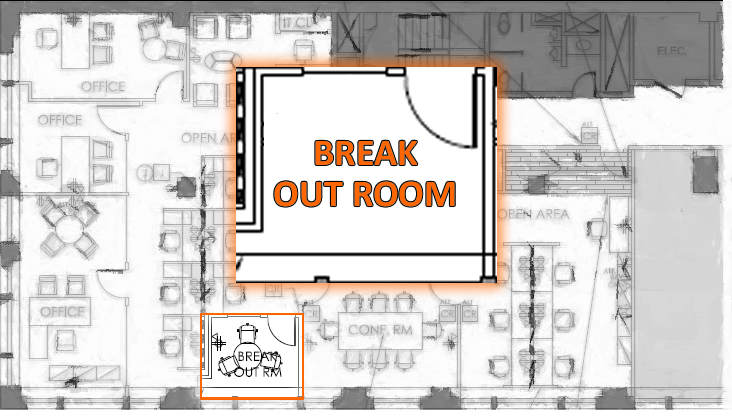 Breakroom Features
An area to chill out…
The breakout room is easily neglected and ignored feature in the office. A breakout room used properly can have a huge impact on productivity for better or worse. It should have a feeling of contrast to the work space not only a separation from the work area. The difference will allow employees to naturally disconnect and decompress. The breakout room's décor should be more exciting than the rest of the office. Décor can increase productivity by adding interest to the space and shifting the mood for employees. Without diverting too much attention to this space, the benefit can truly add to productivity and morale.
A successful breakout room should have certain features to foster the perfect atmosphere to maximum the space. If you are going to include a breakout room in the office then get the most benefits from this additional space. Many successful companies' breakout rooms feature:
Those Features Broken Down
1. Complimentary coffee are offered in the breakout room. Along with the coffee should be all the extras of sugar, cream, cups, and stirrers. Caffeine is a great addition to the office increasing attention span and decreasing energy drops. Coffee is a beneficial addition without adding too much cost.
2. Effective breakout rooms should feature a table and seating so employees can comfortably enjoy their lunch or coffee. The "lunch table" also functions as a relaxed opportunity for employees to connect and engage. The opportunity for teamwork and collaboration to face any projects.
3. Creating a distinct environment in the breakout room separate from the work area will make it special. The staff can interact with the change in scenery and be able to reset the energy.
4. Some companies recommend adding games to the breakout space. Games are known to relieve stress and boast comradery. Games keep employees engaged and present while building a team environment.
5. There are several ways to get the most out of the breakout room without costly upgrades and finishes. Décor is a similar way to liven the space. Placing brightly colored posters and plants can make a great difference.
6. Offering healthy food options is a great to go above and beyond for your staff. This perk is the perfect way to satisfy hunger without the dreaded sugar rush (usually resulting in a crash midday). Various nuts, granola, fruit, and snack bars are just some of the options.
7. Comfortable seating are a sure way to create the relaxing environment without too much energy. Creating a breakout room to service as more than a lunch space needs a couch for relaxing.
8. Televisions are a bigger cost and not effective for every company. For the company that is able to afford the cost, televisions keep your staff informed and involved. Restrict the available channels and maintain a low volume to avoid becoming a distraction, this offers the staff a glimpse at the world. A financial alternative to the television are newspapers placed throughout the breakout room.
9. The breakout room should truly service the employees; one way to encompass that is to take request from the staff. A comment or suggestion box creates a customized feel in the breakout room. The staff can feel heard and respected.
Summary

While a Breakout Room is an important place for the staff take a physical and mental break. Breakout rooms allow employees to get up from their desk and move from their computer screens with purpose. Acknowledging the multi-purpose nature of a breakout room can foster a great space for collaboration without the formal nature of a conference room. Furnishing the breakout room with various types of seating and furniture is a great way to distinguish it from the rest of the office. The breakout room can start to sound exaggerated, but even small efforts can go a long way. Designating a small part of your open office floor plan and adding comfortable chairs will still allow employee to disconnect from their work station.
If your in the market for a new office space with an appealing Breakout Room or one that contains the space necessary for a great area like this to be constructed in a new space – give us a call we can cut the time down and deliver to you only those spaces that match your criteria and budget!
Our assistance is free and you can call us anytime at no obligation!