Sunlit Exposure
By definition a space that features "Good Sunlight Exposure" denotes that the commercial unit allows natural light to come in and bears one or all of the following details; unit stands in one of the building's upper floorplates, the unit overlooks a shorter height property adjacent to the tenant, and or the unit ejoys an eastern or west facing view. In any case this designation is only used sparingly throughout our office listings.

Sunlight Factors
- East / West Exposure
- High Vantage Floor
- Unencumbered / Unrestricted Views
With the average building height in Manhattan standing at 467 Feet tall or 38 Stories tall, it's important for us to identify only those commercial spaces that truely stand above the rest!


The Science of Sunlight
"We already study circadian rhythm in sleep labs and find that ... light is the most important synchronizing agent for the brain and the body."
- quote; Ivy Cheung
(co-author of a study published this summer in the Journal of Clinical Sleep Medicine; 2014)

Cheung and most recent study found that workers who had a window in their office had a much better sense of health. In short she says that exposure to natural light during the workweek tends to inspire people to exercise more, while staff with a window are also better rested according to the findings.
An Office with a View
Traditionally there are a few well-known commercial building sprinkled throughout the city known for their inspiring heights. These properties by all accounts feature sweeping expansive views of their local area and or even the city beyond.
• Empire State Building
• One World Trade Center
• 4 World Trade Center
• Chrysler Building
• Metlife Building
• Bank of America Tower
• 4 Times Square - Condé Nast Building
• New York Times Building
• One57
• 30 Hudson Yards
• Citigroup Center
• Bloomberg Tower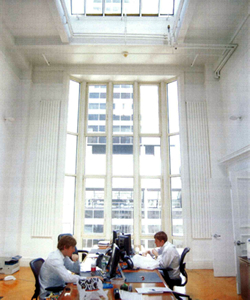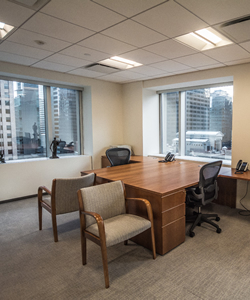 Summary
If your interested in leasing or pruchasing an office in Manhattan that features a great sunlit exposure, just give us a call - we have data on all the building proerties throughout city that bear the specific details your looking for - whether your in the market for an office facing a certain cardinal direction, a high floor plate, and or unobstructed views - we can help!


Option #1
Broker Assisted
Office Space Search
Office Space Amenities / Features:
ADA Access
Attended Lobby
Balcony
Boutique Buildings
Breakout Rooms
Brick Walls
Bullpen
Carpeting
Close to all Transportation
Coffee Lounge
Concierge Service
Conference Room
Copy Room
Creative Space
Direct Elevator Access onto the Floor
Drop Ceilings
Efficient Layout
Exposed Beamed Ceilings
Exposed Ducts
Flexible Leasing Terms
Freight Elevators
Full Floor Office
Furniture & Phones
Glass Accents
Glass Fronts
Guest Seating Area
High Quality Finishes
High Speed Elevators
I.T. Closet
I.T. Room
Loft Layout
Mail Room
Move-in Condition
Onsite Management
Open Layout
Operable Windows
Oversized Windows
Pantry
Penthouse Office
Polished Hardwood Floors
Pre-wired for Voice & Data
Private Offices
Private Restrooms
Raw Space
Reception
Remodeled
Renovated
Roof Deck
Secure Keypad Entry
Skylight
Split AC
Stainless Steel Appliances
Storage Room
Sunlit Exposure
Supplemental AC
Tenant Controlled HVAC
Terrace
Turn-Key
Water Column Access
Whitebox
Services We Provide:
Architectural Coordination & Design
Architectural Requirments
Construction Supervision
Drafting Offers & Counter Proposals
Expansion of Space
Floor Layouts & Design
Landlord Concessions
Lease Exopirations
Lease Extentions
Lease Renewals
Leasing Space
Legal Consultation
Listing your Property for Sale
Listing your Space for Lease
Moving Details
Negoitate Lease Terms; escalations, rental rates, and utilities
Negoitate Rentals Rates / Increases
Office Space Touring
Real Estate Investment Advisement
Real Estate Tours
Satellite Offices
Tax Analysis


RELATED LINKS

- Buildings
- Office Buildings
- Hotels
- Skyscrapers