Reception
The reception area is typically located within the waiting area or in the front entrance of the business. A reception area is the first area designated to greet the staff, clients, and guests upon arrival. The reception also directs and guides any visitors to the business. The main purpose of the reception area is a welcoming space to receive visitors and wait for their appointment.
In part to the advancing technology communications, many small to medium sized businesses are hiring a live remote receptionist instead of an in-house receptionist. This advancement has led to the elimination of many receptionist jobs.
There are typically two types of reception areas found in businesses. One type of reception area is found in a doctor's office or outside of CEO's offices. Visitors arrive to the office individually to wait for their appointment in the waiting area.
Seating for visitors is common in most reception and waiting areas to avoid people standing while they wait. They may even offer access to a public restroom. Several waiting areas may contain newspapers, magazines, televisions, or even vending machines. To boost patience including entertainment is important to help pass the time.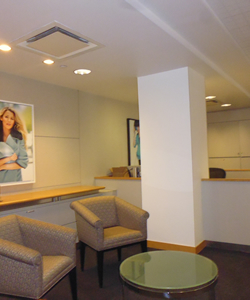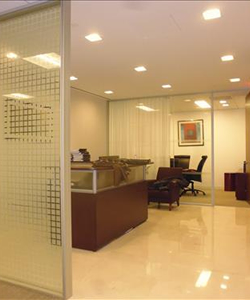 Summary
A reception area should maintain positive atmosphere to create the best first impression. Although many people are avoiding naming their reception area a waiting room, the reception area and waiting area are one on the same. The area is designated for visitors to sit and wait. The main purpose should be to promote inviting and serene environment.
However, you choose to name the area, a reception area is vital to your office design. When planning and designing your office layout, our brokers are here to assist you in creating the perfect reception area.
Looking for a fantastic reception area for your next office space - give us a call there are options we'd like to show you!


Option #1
Broker Assisted
Office Space Search
Office Space Amenities / Features:
ADA Access
Attended Lobby
Balcony
Boutique Buildings
Breakout Rooms
Brick Walls
Bullpen
Carpeting
Close to all Transportation
Coffee Lounge
Concierge Service
Conference Room
Copy Room
Creative Space
Direct Elevator Access onto the Floor
Drop Ceilings
Efficient Layout
Exposed Beamed Ceilings
Exposed Ducts
Flexible Leasing Terms
Freight Elevators
Full Floor Office
Furniture & Phones
Glass Accents
Glass Fronts
Guest Seating Area
High Quality Finishes
High Speed Elevators
I.T. Closet
I.T. Room
Loft Layout
Mail Room
Move-in Condition
Onsite Management
Open Layout
Operable Windows
Oversized Windows
Pantry
Penthouse Office
Polished Hardwood Floors
Pre-wired for Voice & Data
Private Offices
Private Restrooms
Raw Space
Reception
Remodeled
Renovated
Roof Deck
Secure Keypad Entry
Skylight
Split AC
Stainless Steel Appliances
Storage Room
Sunlit Exposure
Supplemental AC
Tenant Controlled HVAC
Terrace
Turn-Key
Water Column Access
Whitebox
Services We Provide:
Architectural Coordination & Design
Architectural Requirments
Construction Supervision
Drafting Offers & Counter Proposals
Expansion of Space
Floor Layouts & Design
Landlord Concessions
Lease Exopirations
Lease Extentions
Lease Renewals
Leasing Space
Legal Consultation
Listing your Property for Sale
Listing your Space for Lease
Moving Details
Negoitate Lease Terms; escalations, rental rates, and utilities
Negoitate Rentals Rates / Increases
Office Space Touring
Real Estate Investment Advisement
Real Estate Tours
Satellite Offices
Tax Analysis


RELATED LINKS

- ADA Guidelines Bathrooms
- ADA Ramp Guidelines
- ADA Disability Guidelines