Operable Windows
Operable window is a classification for windows that have the ability to be opened and closed by the tenants. Being able to better control air flow and fresh air into the space is a highlight of operable windows. This feature is one of the most frequently requested by businesses. Having the ability to open a window and let in fresh air bring a connection to the outdoor and better mood.
The Specifics About Operable Windows
in office buildings | window types | in curtain wall | window systems | natural ventilation | window detail | in high rise buildings | openable

Although operable windows are desired by tenants, most new buildings do not include operable windows. Operable windows are typically not included to avoid any strain on the HVAC systems by left open windows. Non-operable windows are less expensive than operable windows. Non-operable or fixed windows are more cost-effective, but less desirable to tenants whom what a sense of control over the space. The additional ventilation is a great benefit to the operable windows.
In many parts of the U.S., natural ventilation offers a seasonal opportunity for air conditioning energy savings if included as part of the HVAC design, balancing, and operating plan. Perhaps the greatest benefit that operable windows provide is ventilation, which can have a positive impact on your HVAC budget...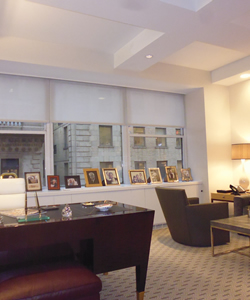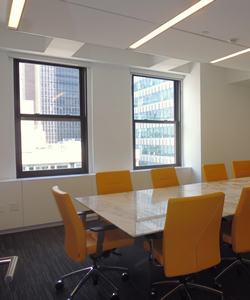 For some buildings that do not want to include operable windows there are other options to bring the same effect. Some windows may have a small area (small awning or sliding portion) operable to promote natural cooling and cross-ventilation. It is recommended for each office area to have one operable window.
Smart Systems
Advances in operable window technology will squash the fear you have about employees opening the windows while your HVAC system is trying to heat or cool the building.
"Operable windows can be equipped with motorized mechanical operators, which allow the opening and closing modes to be controlled," says Brenden. "They can also be designed to activate automatically for smoke evacuation."
You also have the option of providing your HVAC system with window status feedback. "The interface between operable windows and mechanical systems can be as basic as a switch that automatically turns off local HVAC components when windows are open
Installation
Operable windows can sometimes be installed more easily in retrofits than fixed windows. "In some cases they are actually preferred due to the fact that anchor fasteners can be concealed between the sash and the frame, eliminating the need for special anchor clips
Summary
Having the ability to open your window while through the work day may seem trivial but can be a desirable perk. Moreover about half of the buildings in Manhattan today feature windows that a tenant can open or close; though as new development continues more and more office towers are being clad in glass & steel without the ability to open an apature at all. If you'd like to lease of purchase a commercial space that features windows you can operate give us a call or fill out our form. When searching for commercial real estate with operable windows it may prove to be difficult to key in on a particular detail as this. We can show you the options and whats available on the market today in just a few minutes.


Option #1
Broker Assisted
Office Space Search
Office Space Amenities / Features:
ADA Access
Attended Lobby
Balcony
Boutique Buildings
Breakout Rooms
Brick Walls
Bullpen
Carpeting
Close to all Transportation
Coffee Lounge
Concierge Service
Conference Room
Copy Room
Creative Space
Direct Elevator Access onto the Floor
Drop Ceilings
Efficient Layout
Exposed Beamed Ceilings
Exposed Ducts
Flexible Leasing Terms
Freight Elevators
Full Floor Office
Furniture & Phones
Glass Accents
Glass Fronts
Guest Seating Area
High Quality Finishes
High Speed Elevators
I.T. Closet
I.T. Room
Loft Layout
Mail Room
Move-in Condition
Onsite Management
Open Layout
Operable Windows
Oversized Windows
Pantry
Penthouse Office
Polished Hardwood Floors
Pre-wired for Voice & Data
Private Offices
Private Restrooms
Raw Space
Reception
Remodeled
Renovated
Roof Deck
Secure Keypad Entry
Skylight
Split AC
Stainless Steel Appliances
Storage Room
Sunlit Exposure
Supplemental AC
Tenant Controlled HVAC
Terrace
Turn-Key
Water Column Access
Whitebox
Services We Provide:
Architectural Coordination & Design
Architectural Requirments
Construction Supervision
Drafting Offers & Counter Proposals
Expansion of Space
Floor Layouts & Design
Landlord Concessions
Lease Exopirations
Lease Extentions
Lease Renewals
Leasing Space
Legal Consultation
Listing your Property for Sale
Listing your Space for Lease
Moving Details
Negoitate Lease Terms; escalations, rental rates, and utilities
Negoitate Rentals Rates / Increases
Office Space Touring
Real Estate Investment Advisement
Real Estate Tours
Satellite Offices
Tax Analysis

| | |
| --- | --- |
| | |
| | |
| | RELATED LINKS |