Plaza District Office for Rent
8808 Sq. Ft. Sublet Office Space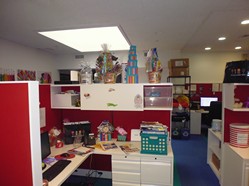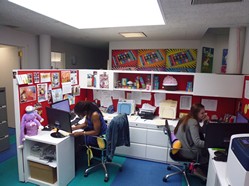 Looking for new tenants for space already set up – today there is 8808 SF of available office space in move-in condition right on 62nd Street. Moreover this commercial unit has everything needed to keep your momentum. The space today contains freshly painted white walls that is complimented by an efficient buildout. The layout of this office consists of; x9 Private Offices, x3 Bullpen Areas (can accomodate 4 to 6 people each), x2 Conference Rooms (with room to seat 8 to 10), an I.T. Closet (with 50 port / rack setup – all pre-wired), a Reception Desk (with room for guest seating), and a Pantry Room (wet column).
The office as a whole features some filing cabinets and closets throughout the space. This unit is further benefitted by it being a corner space occupying 2-sides of the building – all of which is complimented by large windows on a mid level floor plate.

In total this elegant spacious and charming office would be a perfect fit for any professional who is seeking a great location within a top quality office highrise. Moreover, the building in which the office is contained stands as a top-tier commercial high rise nestled in the heart of Manhattan with views of the surrounding Midtown East area. This premiere office tower offers you a level of prestige and comfort that comes with a top quality building in a demand location!

The building features 24/7 manned lobby, numerous high speed elevators, freight access, and keycard access at any hour. This property's tenant roster is populated by one recognizable institution (Cornell University) while the remainder of the building enjoys a mix of otyher commercial tenants who reside here – a first class office and showroom building featuring newly renovated lobby and elevators. A portion of the building is to the trade high-end decorators and designers.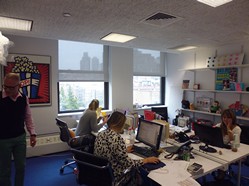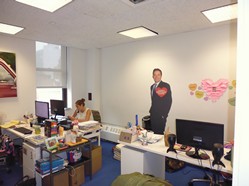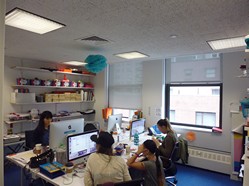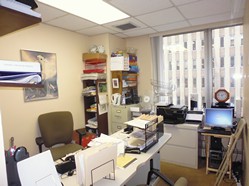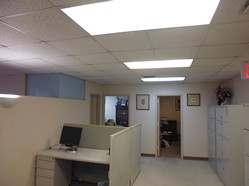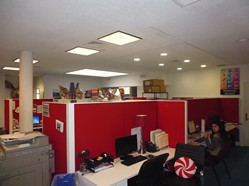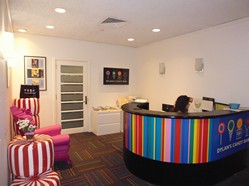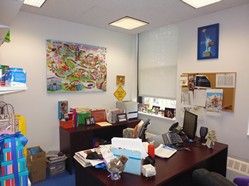 Available to view at your earliest convenience.
Access by Appointment Only.
View PDF Flyer / Floor Plans Here
Available Sizes:
(2 Year Term - Sublease)
Call for Price or other Available Spaces

Key Features:
- 9 Windowed (operable) Private Offices
- 3 Bullpen Areas for 4 to 6 people each
- 2 Conference Rooms
- 2 Skylights that allow good natural sunlit exposure
- Abundant Storage Space
- 2 Private Bathrooms
- Kitchen & Pantry Area
- Wired for Internet & Telephone
- Direct 24 Houre A/C controlled by Tenant
- Perfect for Architectural, Designer, or other office usage
- Convenient public transportation options; 4, 5, 6, N, R & Q
- Ideal Eastside Location (UES)
Call or Click Today - Tour Tomorrow ™


Option #1
Broker Assisted
Office Space Search

Space Location (20th Street between Fith & Sixth Avenue)
Neighoborhood Information
This ultra-busy crossroads exudes a laid-back attitude in a fast-paced environment.

The average asking rental rate was $62.31 PSF in Q1 2015 a minimal increase from $61.58 PSF in Q4 2014. This increase in rental rate was spread across various submarkets within Midtown.

Increased inventory of space in certain properties might put downward pressure on rental rates in the short term. In light of this, many landlords are considering refurbishing and repositioning older assets to meet the needs of the millennial work force.

Businesses who call this Neighborhood Home
NBC Universal, LLC
Sony Corporation of America
The Blackstone Group LP
Deloitte Services LP
Kirkland & Ellis LLP
Bloomberg
The Estee Launder Company
Simon & Schuster
BlackRock
Wells Fargo Advisors, LLC
Arnold & Porter LLP
Bristol-Myers Squibb Company
NFL Enterprises LLC
IBM Corporation
Merrill Lynch & Co., Inc.
Bessemer trust Company
Carlyle Investment Management, LLC
Cantor Fitzgerald, LP
Citadel Investment Group
TEKsystems, Inc

Nearby
Cassa Hotel (70 West 45th Street)
Roosevelt Hotel (45 East 45th Street & Madison)
Wyndham Midtown (45th Street between 2nd & 3rd Avenues)
Holiday Inn Express (15 West 45th Street)
Hilton Garden Inn New York Manhattan (206 East 52nd Street)
Renaissance New York Hotel (130 East 57th Street)

Noteable Buildings in the Area
55 East 52nd Street (Park Avenue Plaza)
31 West 52nd Street (40 West 53rd)
10 East 53rd Street (Harper Collins Building)
650 Fifth Avenue
712 Fifth Avenue
767 Fifth Avenue (GM Building)
885 Third Avenue (Lipstick Building)
450 Lexington Avenue
560 Lexington Avenue
570 Lexington Avenue (Tower 570)
599 Lexington Avenue
600 Lexington Avenue
601 Lexington Avenue (CitiGroup Center)
641 Lexington Avenue
731 Lexington Avenue (Bloomberg Tower)
415 Madison Avenue
510 Madison Avenue
485 Madison Avenue
590 Madison Avenue (IBM Building)
650 Madison Avenue
660 Madison Avenue
667 Madison Avenue
375 Park Avenue (Seagram Building)
390 Park Avenue (Lever House)
399 Park Avenue
825 Third Avenue (Random House Building)

Transit
N Q R 4 5 6 at Lexington Av-59 St 0.1 miles
F at Lexington Av 0.1 miles
6 at 68th St 0.3 miles
E M 6 at Lexington Av-53 St 0.5 miles
N Q R at 5th Av 0.5 miles
E M at 5th Av 0.6 miles

To the Airport
JFK Airport: 30 minutes by cab with no traffic
Laguardia Airport: 20 minutes by cab with no traffic
Times Square: 7 minutes by subway
Wall Street / Financial District: 17 minutes by subway