Flatiron Work/Live Loft for Rent
5000 Sq. Ft. Work/Live Office Space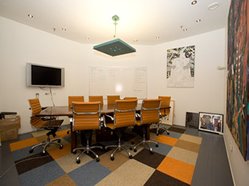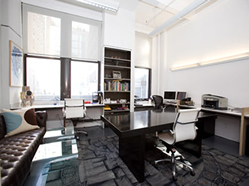 The listed space featured here offers a Live/Work office configuration that is two blocks away from the Flatiron Building.

This loft office is located 20th Street in Midtown between Fifth and Sixth Avenues, centrally located between the East & West sides of Manhattan respectively. The office enjoys a classic loft form factor (dark hard wood floors + high 12.5' exposed beamed ceilings) that occupies the whole of the fifth floor. Because of the floor full presence the passenger elevator opens directly into the Reception Area which has room for seating your guests.
This commercial loft contains all that is needed for a private business including; four Private Offices, a contemporary Reception Area, Conference Room, two Bathrooms, a Kitchen and separate Pantry, Freight Elevator, and a spacious open Work Area - plus "tons" of Storage Space within.

This office is situated inside a 11-story commercial loft cooperative building. The property is in the Flatiron District but close to both Union Square and Madison Square Park allowing for many transportation options for your staff and clients!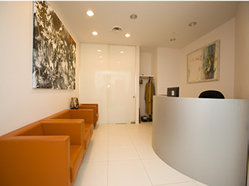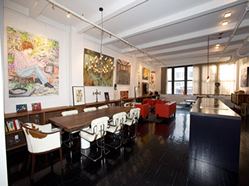 Available to view at your earliest convenience.
Access by Appointment Only.

View PDF Flyer / Floor Plans Here
Available Sizes:
(2 to 3 Year Term - Direct)
$20,000 (Monthly) 5,000 SF. Work/Live Loft
Key Features:
- Great Address just off of Fifth Avenue in the Heart of the Flatiron District.
- Classic Loft Form Factor (12.5' Ceilings)
- Full Floor Presence, passenger elevator opens directly into the Loft.
- 4 Private Offices
- Modern Reception Area
- Conference Room
- Cavernous Open Work Area / Kitchen
- 2 Bedrooms
- Separate Pantry
- 2 Bathrooms
- Excellent North/South Windows + Light
- Central HVAC
- Freight Elevator
- Tons of Storage Space
Call or Click Today - Tour Tomorrow ™


Option #1
Broker Assisted
Office Space Search

Space Location (20th Street between Fith & Sixth Avenue)
Neighoborhood Information
This ultra-busy crossroads exudes a laid-back attitude in a fast-paced environment.

In the past decade, the Flatiron District has emerged as a trendy, vibrant neighborhood that appeals to businesses, residents and tourists alike. Technology, youthfulness, creativity and innovation are some words that capture the distinct flavor of the neighborhood. The Flatiron District's proximity to other great neighborhoods such as Chelsea, Union Square and Gramercy only makes it more enticing. The Flatiron's District's prestige affords local businesses an opportunity to play up their location in the realms of advertising and marketing.
The Flatiron District is a neighborhood in the New York City borough of Manhattan, named after the Flatiron Building at 23rd Street, Broadway and Fifth Avenue. Generally the Flatiron District can be said to be bounded by 20th Street, Union Square and Greenwich Village to the south; the Avenue of the Americas (Sixth Avenue) or Seventh Avenue and Chelsea to the west; 25th Street and NoMad to the north; Rose Hill to the northeast, and Lexington Avenue/Irving Place, Gramercy Park to the east.
Businesses who call this Neighborhood Home
Tiffany & Co.
Grey Global Group Inc.
The New School
Mediaocean LLC
The Institute of Culinary Education
Spotify USA
LBi
Anheuser-Busch
Mastercard International
Converse, Inc.
Saks & Co
Gawker
AOL
Ralph Lauren Corporation
Business Insider
Mashable
Adobe Systems
Hulu
Axium
Publishers Clearing House
Toy Industry Association

Nearby
The Gershwin Hotel (7 East 27th Street)
Broadway Plaza Hotel (1155 Broadway)
Comfort Inn Chelsea (18 West 25th Street)
Hyatt Union Square (134 4th Avenue)

Noteable Buildings in the Area
The Flatiron Building; 175 Fifth Avenue (The Fuller Building)
200 Fifth Avenue (International Toy Center)
675 Avenue of the Americas (Trader Joe's Building)
655 Avenue of the Americas ( O'Neill Building)
620 Avenue of the Americas
28-40 West 23rd Street
114 Fifth Avenue
71 West 23rd Street (Masonic Hall)
50 West 23rd Street
1101-1113 Broadway (Toy Center North)
79 Fifth Avenue (Knickerbocker Building)
100-104 Fifth Avenue
28 West 20th (Steihl Building)

Transit
6 at 23rd St under 500 feet N R at 23rd St 0.1 miles
F M at 23rd St 0.3 miles
PATH at 23rd Street Station 0.4 miles
L N Q R 4 5 6 at 14th St-Union Square 0.4 miles
L at 3rd Av 0.5 miles

To the Airport
JFK Airport: 30 minutes by cab with no traffic
Laguardia Airport: 20 minutes by cab with no traffic
Times Square: 7 minutes by subway
Wall Street / Financial District: 17 minutes by subway