East 42nd Office Rental
Midtown Office for Lease - $ Negotiable / 14528 SF.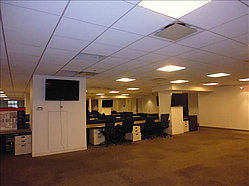 The following office offers an ample efficient business layout that includes a large number of private offices (6 of which are partner offices), 19 private perimeter offices and 10 internal offices, an open work area with 12 workstations, all of which is serviced by 4 conference rooms, I.T. Office / Server Room, and a large staff pantry. Furthermore the office features a Server Room with supplemental AC. The historic building property stands close to the New York Public Library offering close proximity to all forms of public transportation. In addition this office also provides the future tenant with an emergcy generator!
In total - you get a fresh open layout in which to configure your office space / operations; great for any accounting, financial, media, tech, or any other professional use as well as any business looking for an exciting office space in Midtown East Manhattan.
Available to view at your earliest convenience.
Available Sizes:
14,528 SF - $ Negotiable

Key Features:
- Full Floor Office Space
- 19 Private Windowed Offices
- 10 Internal Private Offices
- 12 Workstations
- Reception Desk & Waiting Area
- I.T. Office & Server Room
- Pantry (Wet Column Access)
- 2 Restrroms
- 24/7 Tenant Controlled HVAC
- Doorman Attended Lobby (24/7)
- Verizon FIOS is Available
- Conveniently near Grand Central: MTA Transit Hub; 4, 5, 6, 7 and S (shuttle between Grand Central and Times Square).
Office Floor Plans: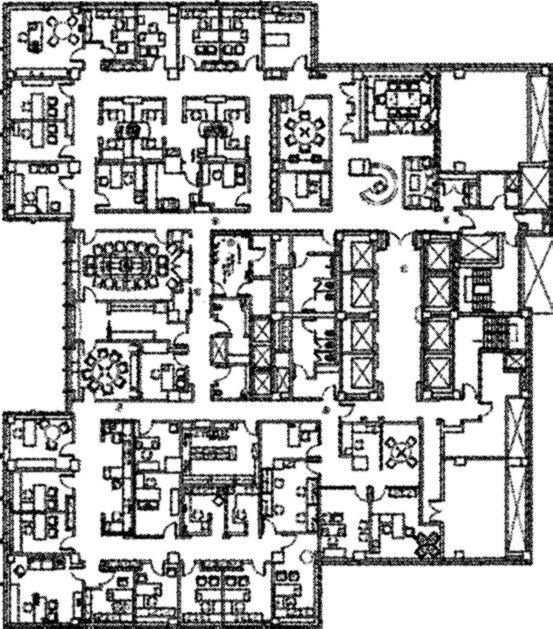 Call or Click Today - Tour Tomorrow ™


Option #1
Broker Assisted
Office Space Search

Space Location (East 42nd Street)
Neighoborhood Information
Midtown Manhattan, or simply Midtown, represents the middle lengthwise portion of the borough and island of Manhattan in New York City. Midtown is home to some of the city's most iconic buildings, including the Empire State Building, the Chrysler Building, and the headquarters of the United Nations.

Midtown Manhattan is the largest central business district in the United States and ranks among the most intensely used pieces of real estate in the world.
Even as some buildings in the core of Midtown are seeing modest rents, the average asking rent for the market overall rose substantially. In Midtown, the city's premier office market, the average taking rent inked with landlords was $75.73 per square foot. Taking rents are increasing as the high end of the market improves, drawing the overall averages upward, but in older buildings in some areas, rents have stalled. Grand Central and the East Side, they are flat year-over-year. Grand Central [for example] tends to be a value play. The availability rate is up slightly in Midtown due to large new availabilities along the Third Avenue and Park Avenue corridors...

Businesses who call this Neighborhood Home
JP Morgan Chase & Co
Pwc
Pfizer, Inc.
Davis Polk & Wardwell LLP
Simpson Thacher & Bartlett LLP
Societe Generale
Mount Sinai
Bloomberg LP
Dreyfus Service Corporation
Gibson, Dunn & Crutcher LLP
Winston & Strawn LLP
J. Walter Thompson
Guggenheim Partners LLC
Major League Baseball Properties, Inc
McDermott Will & Emery
A&E Television Networks
Aegis Media Americas, Inc.
Voya Financial, Inc
Moses & Singer, LLP
Gerson Lehrman
WPIX, Inc.
Rodale Press
Warburg Pincus, LLC.

Nearby
The Westin New York Grand Central (212 East 42nd Street)
Fotzpatrick Grand Central (141 East 44th Street)
Hotel Boutique at Grand Central (447 Lexington Avenue)
Club Quarters Hotel, Grand Central (128 East 45th Street)

Noteable Buildings in the Area
1 Vanderbilt Avenue
100 East 42nd Street (Pershing Square Building)
109 East 42nd Street
110 East 42nd Street (Greenpoint Bldg)
122 E 42nd St (The Chanin Building)
122 East 42nd Street
125 Park Avenue
150 East 42nd Street (Mobil Building)
2 east 42nd street
205 East 42nd Street
212 East 42nd Street
220 E 42nd St (The Daily News Building)
220 East 42nd Street
222 East 41st Street
299 Park Avenue
300 East 42nd Street
320 East 42nd St (Woodstock Tower)
320 East 42nd Street
345 Park Avenue
380 Lexington Avenue
420 Lexington Avenue
501 Fifth Ave
60 East 42nd Street
613 East 42nd Street
733 3rd Ave
89 E. 42nd Street (Grand Central Terminal)

Transit
S 4 5 6 7 at Grand Central 0.2 miles
B D F M 7 at 5th Avenue 0.3 miles
6 at 33rd Street 0.3 miles
B D F M N Q R at 34th St-Herald Square 0.5 miles
PATH at 33rd Street Station 0.5 miles

To the Airport
JFK Airport: 60 minutes by cab with no traffic
Laguardia Airport: 45 minutes by cab with no traffic
Times Square: 5 minutes by subway
Wall Street / Financial District: 1 minutes by subway