Attended Lobby
An attend lobby is the service of a lobby attendant or concierge in which the attendant welcomes and check-ins guests, maintain security, and receive any delivery services.

Situated at the entrance in the lobby, lobby attendants/concierge are typically seated behind a desk. Several building types offer lobby attendant/concierge at various price points. A full-service building usually has both a lobby attendant and a doorman which are generally pricier. Then there are some building with no doorman or lobby attendant.

A lobby attendant, as stated in the title, are found in the lobby of the building. A lobby is a room in the building that is the entrance hall to the building. Office buildings, hotels, and skyscrapers want to foster the right impression or image by placing beautiful décor and finishes also called "power lobby"
Doorman vs Attended Lobby
These terms are often assumed to be synonyms of each other. Albeit, both are present in the lobby, they service the building differently. A doorman is a uniformed individual who helps staff, clients, and visitors through the door and into the building. An attended lobby, on the other hand, has an attendant/concierge behind a desk in the lobby who can welcome and manage visitors and guests.

There are four types of services to assist the Lobby:
Doorman
Attended Lobby (or "concierge")
Full Service
No Doorman
Common Services
Business Hours / Off Hours Entree
Visitor Management
Security Staff
Information Desk
Postal / Shipping Services
Nomenclature Specifics
The differences between an Attended Lobby and a Full Service Lobby are assembled into four grouping. The groupings are defined as follows:

1) A full service lobby typically assigns more than one employee to service the lobby. A doorman and concierge desk are available in the lobby.

1) A full service lobby typically assigns more than one employee to service the lobby. A doorman and concierge desk are available in the lobby.

3) A virtual doorman is in the lobby and uses cameras with an internet connection to transmit images to the monitoring center. A virtual doorman allows tenants to see and talk to anyone at the door with only the doorman being heard.

4) The unattended lobby does not assign any persons/employees to be present in the lobby. Instead, a voice or video intercom system is installed in the lobby.
Attended Lobby Benefits

Safety or Nosy?
A perceived level of safety is a fruitless argument because it is something you either 'feel' or don't. An attending lobby is a great amenity that can make a difference in safety for a business. Attended lobby can offer security to tenants with the presence of a person at the door. The notion of security can be a vague value. If your concerns lie with whether the attendant can see the sidewalk, whether the block active or not, and even the activity in the neighboring buildings, then the security offered by a lobby attendant may seem more uncertain.
On the other hand, the value privacy may contribute to the security offered by a lobby attendant. If a privacy is important, then having a person at the door monitoring the coming and goings of yourself and staff, may pose more of a concern. The people who may feel this way most likely view an attended lobby as a con despite the price. These people tend to prefer the downtown location rather than Midtown.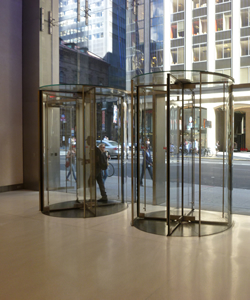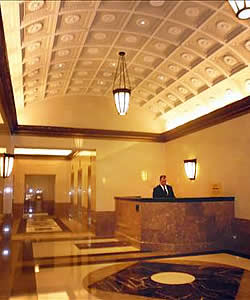 Building Lobby Quality Standards
Commercial Real Estate Standards

Class A Buildings
Class A buildings are considered to be the best of the best commercial buildings offered on the market. Class A buildings consist of mainly prestigious buildings with above-standard finishes, state-of-the-art technology systems, prime neighborhood locations, and renowned architecture. Class A buildings attract above average rent due to the exceptional amenities and location. High-tech security, modern elevator, high-end HVAC, and technological availabilities are stunning features placed throughout the building. In-building services may also include cafes, restaurants, retail, gyms, roof terraces, balconies, and bike storage. The buildings employ concierge/lobby attendants to service the stunning lobby. Class A office space is perfect for an image conscious client or business looking to impress.
Some notable features of Class A buildings are:
- Full Service Building
- Newly Built or Renovated
- Large Lobby
- Cafeteria/Restaurants/Food Court
- Central Location/Central Business District
- Superior Infrastructure
- State-of-the-Art Technology
- Outstanding Security Standards
- Possible Indoor Atrium/Water Feature/Greenery
- High-End Finishes/Marble/Glass/Imported Tile
Class B Buildings
Class B building tend to be older and outdated in comparison to Class A buildings. The buildings tend to offer run-of-the-mill office space. The technological capacity is usually good but rarely great. Offering average range for rents in the comparable market, they are typically nice and functional, but not nearly as impressive. Even with the seemingly commonplace description, Class B buildings boast modernizations and improvements to offer the tenants. The maintenance, elevator systems, and HVAC are all practical and a great bang for your buck. Class B buildings tend to have attractive lobbies with lovely finishes, but not as high-end as the Class A buildings. Several of the Class B buildings may even have an attended lobby, security staff, or management present, possibly during or after business hours.
Notable features available in Class B buildings:
- Fully Functional
- Adequate Technology
- Nice Finishes
- Good Location
- Maintenance and Upkeep
- Wide Range of Tenants
- Solid Management
- Lobby Attendant/Security Staff

Class C Buildings
Class C buildings attract tenants looking for office space with below average rent in a good location. The below market rent is not without its compromise; the buildings may have subpar maintenance and out-of-date finishes. Older buildings in need of modernizations and renovations frequently fall into this classification. The technological capacity usually is outdated and feeble. The elevator system most likely original or non-existent. Generally functional and serviceable, the services are typically outdated in comparison to the Class A or B building services. The buildings pass on the "power lobby" and opt for an entrance with an intercom instead. Without the large lobby, a lobby attendant/concierge is rarely employed in Class C buildings. Class C buildings are a great economical choice for a no-frills tenants.
Some features of Class C buildings are:
- Practical Buildings
- Below Average Rent
- Older Buildings
- Average Services
- Technology Offered
- Older Elevator Systems
- Rarely have Lobby Attendants/Concierge

Summary
An attended lobby differs in service and prestige offered to each tenant or business. Understandably the A, B, C classification for the buildings remind us high school assignments, but unlike high school you do not have to stress about attaining the "A" office space. Bear in mind, the classifications of buildings compete for different kinds of tenants and are mostly subjective.

More Info
If your interested in a building that features an attended lobby, just give us a call - we can delivery to you a space survey detailing only those buildings that match your specific needs.


Option #1
Broker Assisted
Office Space Search
Office Space Amenities / Features:
ADA Access
Attended Lobby
Balcony
Boutique Buildings
Breakout Rooms
Brick Walls
Bullpen
Carpeting
Close to all Transportation
Coffee Lounge
Concierge Service
Conference Room
Copy Room
Creative Space
Direct Elevator Access onto the Floor
Drop Ceilings
Efficient Layout
Exposed Beamed Ceilings
Exposed Ducts
Flexible Leasing Terms
Freight Elevators
Full Floor Office
Furniture & Phones
Glass Accents
Glass Fronts
Guest Seating Area
High Quality Finishes
High Speed Elevators
I.T. Closet
I.T. Room
Loft Layout
Mail Room
Move-in Condition
Onsite Management
Open Layout
Operable Windows
Oversized Windows
Pantry
Penthouse Office
Polished Hardwood Floors
Pre-wired for Voice & Data
Private Offices
Private Restrooms
Raw Space
Reception
Remodeled
Renovated
Roof Deck
Secure Keypad Entry
Skylight
Split AC
Stainless Steel Appliances
Storage Room
Sunlit Exposure
Supplemental AC
Tenant Controlled HVAC
Terrace
Turn-Key
Water Column Access
Whitebox
Services We Provide:
Architectural Coordination & Design
Architectural Requirments
Construction Supervision
Drafting Offers & Counter Proposals
Expansion of Space
Floor Layouts & Design
Landlord Concessions
Lease Exopirations
Lease Extentions
Lease Renewals
Leasing Space
Legal Consultation
Listing your Property for Sale
Listing your Space for Lease
Moving Details
Negoitate Lease Terms; escalations, rental rates, and utilities
Negoitate Rentals Rates / Increases
Office Space Touring
Real Estate Investment Advisement
Real Estate Tours
Satellite Offices
Tax Analysis


RELATED LINKS

- Buildings
- Office Buildings
- Hotels
- Skyscrapers